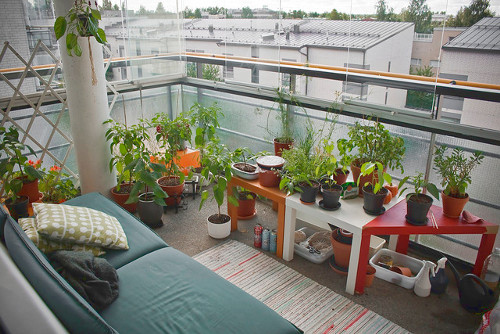 For many wannabe homesteaders, an apartment probably seems like the last place you'd be able to homestead. And of course, you won't be able to grow (very much) food of your own, raise livestock, or live off the land. There are however, many things you can do to make your apartment a mini-homestead. While you'll still be reliant on the outside world, the truth is, most homesteaders still are too, and no matter what your living arrangement, there's always something you can do to be more self-reliant.
Here are some tips for apartment homesteading that anyone can do:
1. Grow as much as you can
It might not be much, but any outdoor area or even sunny windowsill that you have is potential "garden" space. You can grow herbs, greens, even tomatoes in small pots. You can grow vertically as well, there are many ideas out there on Pinterest or products on the market for growing things from hanging pots or along a wall. You can also grow sprouts right on your counter, for fresh, insanely healthy greens year-round.
2. DIY Everything
Ok, so you probably can't DIY literally everything, but learning to sew, craft, knit, mend, etc., can help you become mroe self-reliant and save money. The beautiful thing about living in the age of Pinterest, YouTube, and blogs (like this one!) is that you can learn to do and make all kinds of things yourself, learning basic skills and saving money along the way.
3. Eat in season
Find your local farmer's market and eat what's in season. This might mean some season you have less fresh produce than others, but there's a great solution for that:
4. Preserve food
Canning, drying, and pickling are all forms of food preservation you can easily do right in an apartment. Buy marked down end-of-season produce and preserve it for the coming winter. It's a great way to save money, have nutritious, homemade preserves year-round, and learn some of the skills that are the cornerstone of self-reliant homesteading.
If you enjoyed this, you might also like….
Let Us Know Your Thoughts