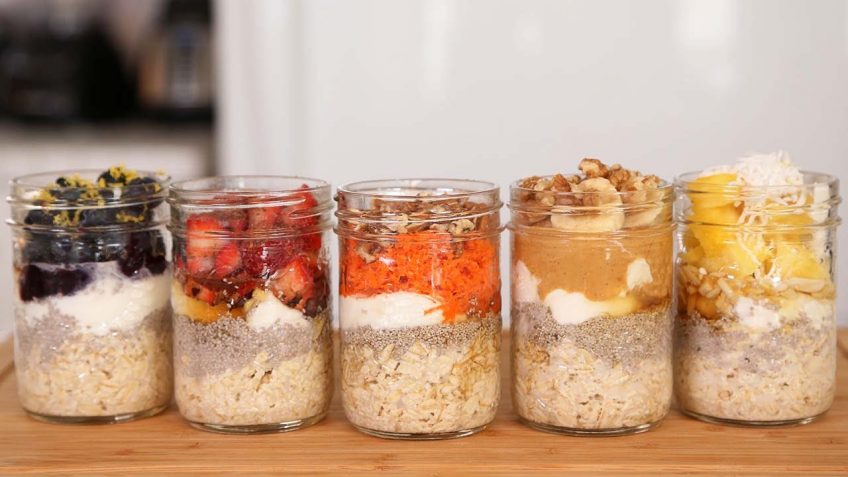 I absolutely love overnight oats. They're such a great, healthy way to have a quick, easy breakfast waiting for you in the morning.
Overnight oats are a staple in Europe, they typically use muesli and let it sit in yogurt and/or milk overnight. Not only does the yogurt really draw out a delicious flavor in the oats, because it is acidic, it also breaks down the "antinutrients" in the grains, making them easier to digest.
Grains are not inherently bad for you, they just typically need to have these antinutrients broken down using methods such as soaking, sprouting, or souring. Before modern industrial forms of harvesting and processing grains, one of these three steps was usually a normal part of the pre-industrial processing, so this might be one reason we have so much gluten intolerance and autoimmune disorders today! I personally find that I feel much healthier when I avoid grains for the most part, but since I am such a big fan of grains in general, I love to find healthier ways to eat them that make them easier to digest, like sourdough bread or, of course, overnight oats!
Oats are already naturally gluten-free, but if you are gluten intolerant, make sure to choose a brand that is labeled gluten free. Oats are commonly processed on the same equipment as wheat so unless otherwise indicated, they can contain trace bits of gluten.
This video features five delicious and creative ways to prepare overnight oats that seriously made me drool. But it's also a great demonstration of just how creative you can get! You can use just plain oats and yogurt, or add in any number of the ingredients she recommends. Odds are you have some kind of dried or fresh fruit, nuts, etc. in your fridge or pantry that would be delicious in overnight oats. Enjoy!
If you liked this, you might also enjoy…
Let Us Know Your Thoughts