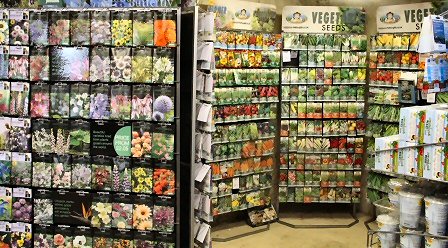 Seeds are an unavoidable cost of starting a garden.  But that doesn't mean that you shouldn't show some care when going about getting your seeds.  Purchasing seeds for your garden without using some discretion can cost you.  Here are a few tips on how to save money when purchasing seeds so that you have more money to invest elsewhere in your garden.
Don't Buy Package "Deals"
If you are looking at a seed catalog you are likely to find package "deals" advertised.  Sometimes these are salad greens, medicinal herbs, culinary herbs, or starter packages for new gardeners.  The premise to these "deals" is that it is cheaper to buy them as a package instead of purchasing all the seeds separately.  This is true, but, it's likely that you don't want all of the seeds in the first place, that's why they are included along with the seeds that you do want in order to get them off of their shelves.
Avoid Novelty Crops
Don't buy seeds that are not likely to easily produce useful food or medicine.  Exotic crops are often exotic because they are highly demanding to grow.
Perennials
Perennial greens or long lasting fruiting vegetables like eggplant will provide you with much more food per seed or cutting than annuals.  This will cut costs and increase production.
Avoid Spring Time "Deals"
Seed companies often promote their products in the early spring.  These seeds are from last season, but they are sold for a premium price.  Buying them earlier and saving them yourself will save you money.  Likewise waiting until later in the year to purchase late season crops will usually save you money.
Save Your Own
You should always save seeds from your own crops.  If you have friends that garden as well, ask them what seeds they have and what seeds that would like to get, trade them extra seeds instead of both of you purchasing far more than you need of the same seeds.
Saving money on seeds will mean that you will have more money to spend elsewhere in your garden, or elsewhere in your life.  Gardens should save you money in long run, but if you aren't being frugal, then gardening can quickly become expensive.
If you liked this, you might also enjoy…
Let Us Know Your Thoughts