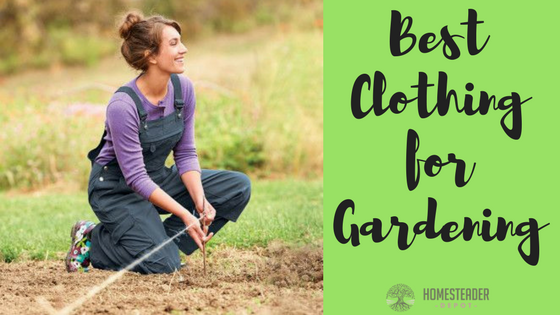 If you spend a lot of time out in the garden, you'll know how important good quality, functional clothing is.
You don't need just any old pair of jeans and t-shirt that you don't mind getting dirty, although that might be your outfit of choice. Your gardening clothes will need to not only be able to withstand dirt stains, sun, sweat, and rain.
Here are some pointers for choosing functional, comfortable, and sturdy gardening clothes.
Covering 
Most seasoned gardeners opt for long sleeves and pants when spending time in the garden. This provides a nice barrier against the sun, as well as dirt or potentially itchy plants and grass. Covering clothing can actually keep you cooler than short sleeves and pants, in many cases, so long clothes are great for both cool, damp morning harvests, and hot, mid-summer weed pulling sessions.
Breathability 
A very important factor of good gardening clothes is that they are breathable, especially if you choose clothing that covers your skin. Light colors might show dirt, but they'll reflect the sun and heat well also, so white, beige, and tan clothing are ideal. Natural fibers or shirts and pants specifically designed for breathability are great for letting your body heat vent out and cool air in.
Function
Clothing with lots of pockets or loops for tools are very nice as well, although you can also opt for a garden belt or apron. There are many available on the market, and plenty of designs you can make for yourself as well. If you'd prefer to use your clothing to store seed packets, tools, twist-ties, and other gardening paraphernalia, clothing items like cargo shorts or vests with lots of pockets can be very handy.
Sturdiness 
While old jeans or dress shirts are great for cheap garden clothes that you won't mind getting beat up and dirty, but you might want to invest in some quality pants and breathable, functional tops that will last. Being out in the hot sun all day, worn down by dirt, and washed frequently, can wear away at clothing, so if you're recycling old clothes for garden clothes, they'll probably be in tatters pretty soon. This might be just fine for you, especially if you go through clothes quickly anyway, but just something to keep in mind. If you garden frequently, it might be a very worthy investment to get some well-made, quality clothing to withstand a few seasons out in the garden.
If you enjoyed this, you might also like….
Let Us Know Your Thoughts