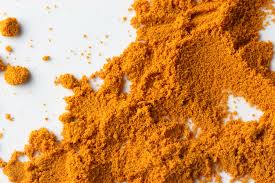 Turmeric is totally incredible. If you don't already have it in your natural healing arsenal, you totally need it. It's a staple in Indian cooking, and its bright yellow pigment is even used as a natural dye, and has been for centuries.
You can buy it in different forms, if you're lucky you can find it fresh in the produce section, usually at a health food store. Health food stores will often have turmeric supplements too or even fancy mixtures, but those can be pricey. If you have no idea how to use turmeric or need a quick remedy these can be great for sure, but you really don't need anything more than a few ounces of powdered turmeric powder, which can be found in the spice section.
Uses for turmeric: 
in health tonics
for topical healing
as a cooking spice
in face masks
in hair masks
Health benefits:
Natural anti-inflammatory
Natural anti-biotic
Natural antiseptic
Natural analgesic
Speeds up wound healing
Strengthens ligaments
Eases coughs
Improves digestion
Purifies blood
Reduces symptoms of asthma
Reduces symptoms of arthritis
Prevents gas and bloating
Heals stomach ulcers
Reduces the effects of skin conditions (psoriasis, eczema)
Helps prevent cancer
Prevents progression of Alzheimers
Aids if fat metabolism and weight management
Reduces side effects of chemotherapy
The simplest way to take turmeric is of course to just use it in your cooking as much as you can. You can season simple homemade bread and rolls with it, throw it into stir-fries, use it in a rub for meat, etc. But depending on the severity of what you are treating, you might want more than that or you simply might not like turmeric in your cooking.
A cheap and easy way to make your own turmeric supplements is to buy veggie capsuels so you can make your own turmeric supplement. They can be found online or at health food stores, as well as simple contraptions to easily fill them. You can also fill them  by hand but it can be relative time-consuming.
One very simple and ultra-effective way to take turmeric-if you can stand this-is in a health tonic. Take one cup of water and stir in 1 tbs of apple cider vinegar. Then stir in a tsp of raw honey, a tsp of cinnamon and a tsp of turmeric. If you are getting a cold or flu, this will work as a super-charged natural antibiotic, or if you need to take turmeric for any other ailment it will put the natural healing power of raw honey, apple cider vinegar and turmeric right to work.
Do you take turmeric for your health? How do you take it?
If you like this, you might also like:
Let Us Know Your Thoughts