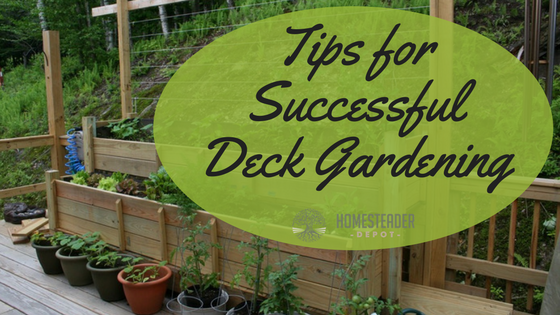 Not everyone owns a sprawling homestead or has a large yard in which to garden, but that doesn't mean there aren't plenty of options for you to grow your own!
Deck gardening is a great option for folks with limited gardening space, and you'd be surprised just how much you can grow on a deck.
However, since a deck garden is first and foremost a container garden, there are some important tips to keep in mind to make your garden a success. Container gardening is a great option for anyone who can't plant in the ground, for whatever reason, and if you follow this advice, you'll avoid a lot of the potential downfalls.
Water, water, water
Watering plants is always important, but on a deck garden, it's even more important. Not only do you need to make sure you water frequently and keep track of the moisture level of your soil, but you also need to make sure your deck will be able to handle all the water! Drainage will spill down below, for example, so if you happen to have neighbors with a porch below yours, you might want to make sure you're not drenching them before you commit to a deck garden. Also, you will want to make sure all the containers you use have good drainage. And finally, you'll want to make sure you have a good hose or reliable watering can, so you can access all your plants easily with your water source.
Keep Size in Mind
When choosing your containers, be realistic about what you're trying to grow and how much space it will need. You might want to measure your deck and plot out a to-scale model of how much space you have and plan your plants and containers accordingly.
When it comes to containers, bigger is always better. It's always better to have too much space for plants than too little, trust us!
Also, if you're planning on growing anything that crawls, make sure you have room for a trellis or something else your plants can climb on.
Finally, you will also need space to tend to the plants! When you're planning out your deck garden spread, keep in mind the space you'll need to water, weed, prune, fertilize, and harvest. Also, keep in mind the height of your container for this reason as well.
Working Space
You will also need somewhere to organize your gardening paraphernalia. A simple folding table in the corner works great, or anywhere you can store and use your pots, potting soil, pest control, gardening tools, etc. A lot of work happens on the sideline, so make sure you've got somewhere to do this.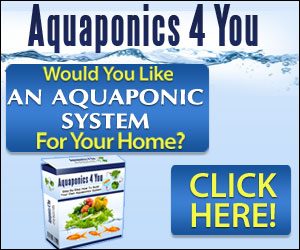 There are a lot of creative ideas online for small gardening "shed" ideas, so check out Pinterest or YouTube to see what experienced deck or container gardeners use. You will most likely want to make sure this is a space you can keep relatively dry. Potting soil can be kept under a folding table, for instance, and you could keep your tools in a toolbox or plastic bin to prevent rust. You will probably want to keep seeds inside, however, as they'll need to stay totally dry and cool so they don't spoil.
The Right Soil
When choosing soil for your containers, make sure you go with something that has been mixed especially for potted plants. This will ensure proper drainage and nutrients. You will also want to amend the soil according to the needs of each plant. Potted plants in particular really need their nutrients, and if you want your veggies to nourish you, you need to make sure they're well-fed as they grow!
Good Tools
It can be tempting to go out and buy lots of fancy looking tools when you first get gardening, especially if you're a novice and have no idea what you will need. For container gardening in particular though, you won't need much, and what you do need, it's important to choose quality items.
You will most likely need a good pair of clippers, a quality spray bottle (or several) for pest repellant or disease treatment, and a small spade for transplanting, weeding or turning the soil. You also might find your needs arise as your gardening season progresses, so don't run out and buy everything all at once. Start small, and see what you need as you go. Better to make a few small purchases at once than buy a bunch of tools you never use!
Start From Seed
Finally, you will probably want to begin your container garden in starting trays before planting into your larger containers. This will ensure you can plant the most healthy seedlings in your container, and make the most of each square inch of space. This also means you can start indoors in late winter, and be all ready to plant by the time the weather gets warm!
Make the most of any space with a flourishing deck garden. As we always say on this site, you don't have to actually have a homestead to be a homesteader!
[Bonus]

Did you know there is a way to boost your production by as much as 10 times, with half as much work? LEARN MORE HERE>>>

Let Us Know Your Thoughts