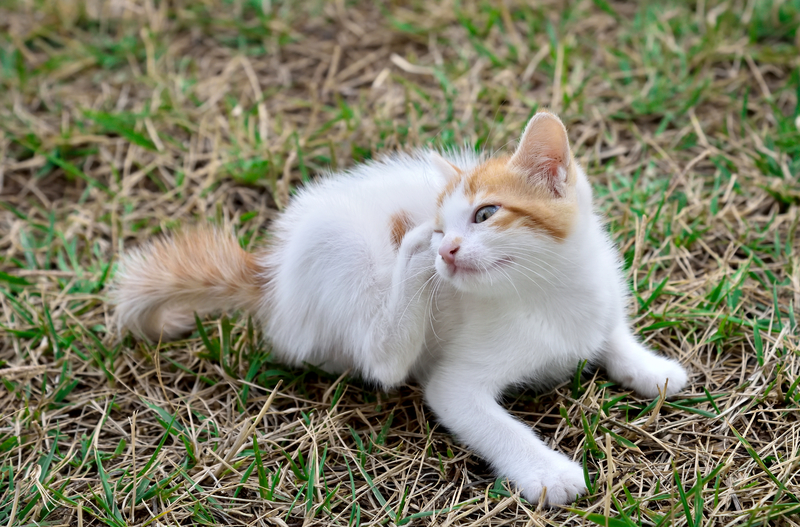 Fleas are miserable little creatures that can cause all kinds of discomfort and health problems for the beloved 4-legged creatures we call family. Not only do they cause uncontrolled itching and scratching they can also lead to other issues that could cost lots of money to remediate.
Why Fleas Are More than Just a Nuisance
Besides the obvious discomfort made by itchy flea bites, there are several other ailments that can result from them.  They include:
Flea allergies that can result in skin rashes and other issues.
Fleas feed on your fluffy friends' blood. Excessive numbers can lead to anemia and even death from blood loss.
Fleas are tapeworm carriers. When your pets lick and bite at flea bites, there is the risk of them ingesting the fleas and becoming infected with these parasites.
Want a way to repel fleas from your furry friends and your home without having to risk exposure to harsh chemicals?  Here are a few recipes that will help you accomplish this when paired with other diligent tasks.
Vinegar Flea Repellant Spray
Fleas don't like vinegar.  So any pet that has its flavor isn't going to taste as good to fleas.
What You'll Need:
Clean Spray Bottle
Apple Cider Vinegar or White Vinegar
Water
Mix 1-part water with 1-part vinegar.  Soak your pet's fur and skin from head to toe and let them air dry in a warm area to keep them comfortable.  Repeat as often as you need to.
Lemon Flea Repellant Spray
What You'll Need:
Clean Spray Bottle
1-3 Lemons
16 OZ of Water
Large Pan
Slice your unpeeled the lemons as thinly as possible. In your large pan, add the lemon slices and water and bring to a boil.
Remove from the heat and let the lemon water steep overnight.  The next day, soak your pet's fur and skin with the spray and let air dry in a warm place to keep them comfortable.  Repeat as often as you need to.
Discover

the "terrifying truth" about commercial dog foods.  Learn More Here
Flea Repellent Powder
As this recipe creates a repellent in powder form, please be cautious when making and applying it. You can use these guidelines to keep you and your pet safe:
Do not inhale the powder.
Use only in well-ventilated areas.
Keep away from your pet's and your own nose and mouth when applying.
Avoid applying around a strong wind or other drafts.
What You'll Need:
¼ Cup Neem Powder
¼ Cup of Powdered Yarrow
½ Cup of Food Grade Diatomaceous Earth
Cedar Essential Oil
Jar with a Good Lid
Put ten drops of the Cedar essential oil into your jar with the other ingredients. Put on the lid tightly enough to form a good seal.  Shake the jar well until all ingredients are mixed thoroughly.
To apply shake the powder into your hand and rub it well and liberally into your pet's fur everywhere, keeping clear of the nose and mouth. Store any remaining powder in the jar with the lid fastened.
Other Ways to Protect from Fleas
One thing you should be aware of when choosing natural methods for flea control, these methods are not pesticides and will not kill the fleas on contact.
However, with diligence and care, they are a good non-chemical way to protect your pet and your home from the ravages of fleas when combined with other control methods.
These include:
Washing all of your pet's bedding frequently with hot soapy water.
Washing and treating area rugs your pet likes to rest or sleep.
Vacuuming every day taking care to get into all the corners and between cushions on furniture.
Using a Flea Comb when grooming your pet.
With consistent use of these precautions, both you and your pet will be able to live much more comfortably.
[Brand New]

Clean your entire home spotless and "eliminate odors" all without breathing in toxic fumes or leaving any hazardous chemical residues behind.  Find Out More Here >>>

Let Us Know Your Thoughts