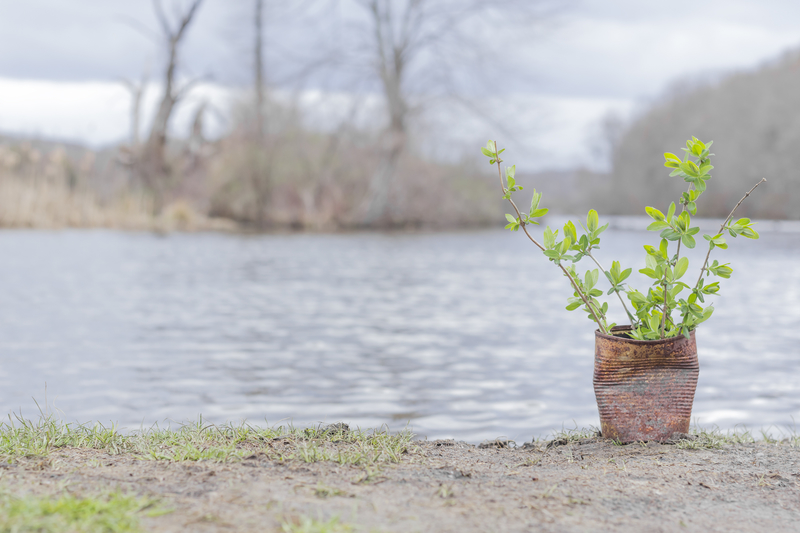 When faced with a number of empty cans in the kitchen, most of us choose to toss them into the recycling bin and call it a day.  Instead, why not turn this common resource into some interesting, fun and creative ways to organize and decorate your home and garden?
Whether you use some leftover paint, glue, and fabric, go crazy with a tin punch or drill, or just leave them in their natural metallic finish, there are a number of ways these little cylinders can occupy your time and beautify your life.
Option 1 – Indoor Herb Garden
Standard vegetable cans are the perfect size for planting a variety of herbs to keep in a window sill or your kitchen counters, giving you easy access for watering and harvesting them as you need them.  As a bonus, having a collection of Basil, Mint, Cilantro, and others will help make your kitchen smell wonderful all day long.
Option 2 – Starter Planters
If you are interested in starting a new series of plantings from cuttings or seeds but don't want to invest in a whole bunch of tiny pots to get them going, use your empty cans instead.  Just fill with potting soil and plant your cuttings or seeds.  Once they've started to sprout and take hold, you can easily carry them out to your garden and replant.
Tip:  if you want to make it easier to remove them from the can when you're ready to transfer, line the can with a coffee filter before you add the potting soil.
Related Article: "A Good Choice for Self Reliant Food"
Option 3 – Candle Holders
There are a couple of ways you can go about this one.  Each option gives you the chance to let your creative juices run wild.
If you have a number of big pillar candles, elevate them with some decorated pedestals made from an inverted can.  If you're more into votives or tealights, punching holes in a decorative design on the sides of your cans will create a beautiful light display in your room at night.  You can even customize sets for different holidays.
Option 4 – Organizers
Most of us have a junk drawer full of tiny items we know we may need someday or just can't bear to part with yet.  Be it rubber bands or paper clips, or a host of charging cords for all our new-fangled technology, keeping them organized and easy to see will help a lot when you actually come across a situation where you actually need something.
For a more visual storage solution, decorate the cans and use them as pencil and pen cups.  Larger cans can be used as cooking utensil holders next to the stove or sewing supply keepers in your family room.
Learn More: "Wood Working Tips from Ted"
Option 5 – Mini Cake Pans
This is a fun idea to do with the kids.  Let everyone make their own little cake by coating the inside of the pan with oil and flour. Then fill the cans just over half-full with cake batter and bake for approximately 25 minutes at 325oF
Just use the age-old toothpick in the center method to check if they are done.  Wait for them to cool, and then tip them upside-down so that the cakes fall out. Now everyone has a tiny cake they can decorate just the way they want it.
No matter what your artistic level is, empty cans are a wonderful way to add to the aesthetic of your home and provide some very practical solutions at the same time without costing you any extra money.

Let Us Know Your Thoughts