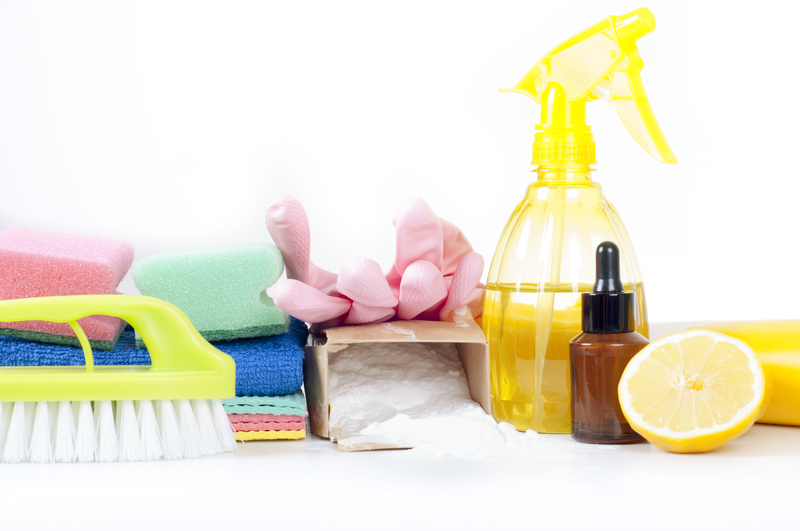 House cleaning can be a drag, but house cleaning while wearing a gas mask is just wrong.  So, why does it seem like so many of the available cleaners on the market today practically require a full haz-mat suite?
If you are tired of dreading housework because of the inevitable headaches and respiratory problems that can be experienced by cleaners, consider instead mixing up your own with any or all of the options below.
Full Strength White Vinegar
Use this wonder product straight from the bottle to remove calcium and other hard water deposits from your shower, sink, counters and more.  Apply and let it soak in. Rinse and repeat until all build-up is gone.
Clean clogged showerheads by pouring vinegar into a plastic bag and securing it around the head with a rubber band or tape.  You'll want to let it soak for at least 2 hours depending on the amount of build-up, or, put in place before bed and let it sit overnight.
Rinse afterward and buff up the fixture to bring back its shine.
Soften clothes and remove detergent residue in your washer by adding 1 cup of vinegar to the rinse cycle instead of fabric softener.
Or, instead of even using laundry detergent with the new powerful laundry magnets.  If you've never heard of them you can check them out by clicking this link…water liberty laundry magnets>>>
White Vinegar and Water
The mild acidity of white vinegar tackles hard water build-up, soap scum, and dirt while still being gentle enough to mix with water and clean hardwood flooring.
Begin your cleaning day by mixing this super easy cleaning. In a spray bottle mix equal parts white vinegar and water. Then get spraying.
Use this same recipe to get the odors out of furniture, carpets and even walls.  White vinegar is a natural deodorizer that absorbs odors instead of covering them up.
It's a great way to freshen up a musty room or get rid of the stale smell of cigarette smoke from furniture, floors, and walls without harming paint or finishes.
Go Lemon Fresh
If you need a general cleaner for light work, use lemon juice instead of vinegar.  Additionally, you can use the outer peeling to polish porcelain, then put all the leftovers from the peeling to the pulp down your garbage disposal to clean and sanitize it while sharpening the blades.
[Brand New]

 Clean your entire home spotless and "eliminate odors" all without breathing in toxic fumes or leaving any hazardous chemical residues behind.  Find Out More Here >>>
Baking Soda Cleanser
Instead of investing in harsh scrubbing powders, try baking soda. Sprinkle it onto a damp rag or sponge to clean out your bathtub's soap scum rings or tackle baked on food on your kitchen range.
For harder jobs, mix the soda with some water to make a paste.  Apply it to the problem area and let it sit for 15 minutes.  Scrub, rinse and repeat until the area is spotless.
Rubbing Alcohol
Rubbing alcohol is a great base ingredient to create your own window and glass cleaner. Do try it out, mix 1 cup of rubbing alcohol with 1 cup water and a tablespoon of white vinegar.
Use this concoction on any shiny finish like mirrors, chrome, ceramic tile and, of course, windows.
Ammonia
Ammonia's alkaline composition makes it an even stronger all-purpose cleaner or window cleaner.  Try one of these recipes when you have a tougher job ahead of you.
All-Purpose Cleaner
2 Cups Water
1 Tablespoon Clear Non-suds Ammonia
1 Tablespoon Dishwashing Liquid
Glass Cleaner
1 Cup Rubbing Alcohol
1 Cup Water
1 Tablespoon Clear Non-suds Ammonia
A Clean House is A Happy House
As you can see, with just a few basic ingredients and some decent spray bottles, you can have a whole arsenal to battle dirt and grime throughout your whole home without the use of harsh chemicals or expensive products.
STOP

wasting thousands of dollars on paper towels and start using this alternative. Learn More>>>

Let Us Know Your Thoughts