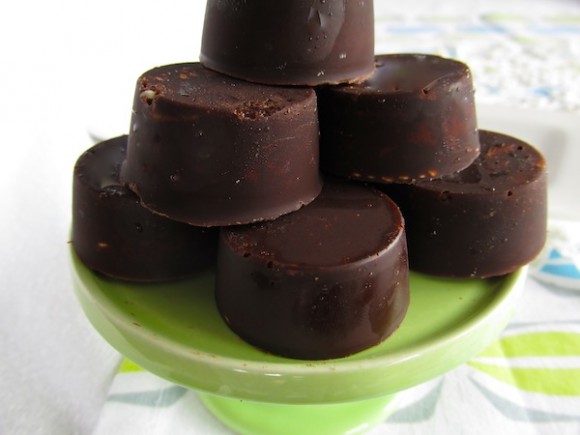 In case you have been living under a rock, coconut oil has soared in popularity in recent years for being an insanely healthy superfood. Regular consumption of coconut oil will provide a multitude of benefits, including:
Reducing wrinkles and sagging skin
Fighting fungus and bacterial infections
Supporting the pancreas, liver and kidneys
Preventing Alzheimer's
Easing digestion
Improving bone health
Maintains healthy blood sugar
Reduces cholesterol
The problem is, most people won't feel like swallowing a spoonful of coconut oil daily. It is, of course, easy to incorporate into your diet by cooking with it or putting in smoothies, but if you are someone with a regular sweet tooth trying to eat healthier, this delicious recipe is a godsend.
If you love chocolate, want to eat more coconut oil, and love easy recipes, this is for you!
These delicious coconut oil candies are insanely easy to make, and totally delicious. And the very best part? They're totally healthy for you, and you have an excuse to eat them every day. Also, since the main ingredient is good-fat-rich coconut oil, they're filling so while they're sweet and delicious, they're also quite filling and satisfying.
Ingredients: 
1 cup organic coconut oil
honey, maple syrup, agave or stevia (to taste)
1/4 cup cocoa powder
Candy molds, ice cube trays, or a small baking pan
1/2 tsp vanilla extract
Salt (optional)
Directions: 
First, get your candy molds, ice cube trays, or baking pan ready. You will be pouring the candy mixture into whatever container you are using and refrigerating, so make sure you've got space in the fridge for it. If you're using candy molds, it can be helpful to lay them all out on a candy sheet and clear one shelf of the fridge, for example.
Melt the coconut oil in a small saucepan over low heat (unless it is warm enough in your home that it's already in a liquid state, in which case, procced to step 3)
Once the coconut oil is fully liquid (don't let it get too hot, just warm enough to be melted), stir in your sweetener, vanilla extract, the salt if you're using it, and the cocoa powder. 2 tbs of maple syrup is what I usually use, so just taste it to see its sweet enough for you.
Mix everything thoroughly, then pour into your candy molds, ice cube trays, or pan.
Refrigerate for about an hour, until the candy is fully hardened. Then transfer to an airtight container and keep in the refrigerator.
Hope you enjoy these delicious healthy treats as much as I do!
Let Us Know Your Thoughts