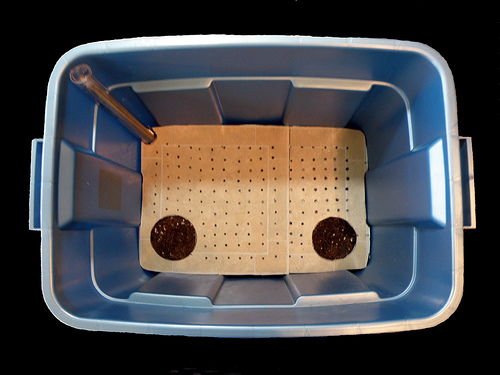 I am personally not a fan of trying to grow plants indoors on in any other artificial and costly setup, but having a grow box doesn't have to be expensive.  You can have a grow box that allows you to get your seeds started safely inside 6 weeks prior to the last frost in your area.  This will give you a significant jumpstart and extension on your growing season.  And this can be done for about $50 if you have purchased all the material, but you probably have most if it around your house already.
Materials
18-gallon plastic bin (If you have one that is larger you can use that too) $30
5-inch clamp light $10
Aluminum foil $6
Duct tape $5
5,000 K compact fluorescent bulb $2
Directions
Remove the lid from the plastic bin and lay the bin on its side. Place aluminum foil on the side that is down and use duct tape to hold it in place.  Turn the bin to the next side and repeat this until the inside of the bin is covered in foil, including the bottom.   The purpose for this is to reflect light back on the seedlings.
Cut a 2inch square in the center of the lid to accommodate the light. Then cut a "T" shaped slit coming off one side of the square to accommodate the camp on the light.
Cover the inside of the lid with aluminum foil and tape it in place just like the inside of the bin.
Put the light in place and clamp it to the lid. The light should be on the inside of the lid, the square hole is only for the back of the light so that it can sit more flush with the lid.
Tips
If possible use square starting containers for you seedlings to save space.
Get an aluminum baking pan to place the starts in.
When you water the seedlings remove them from the grow box and pour about ½ inch of water in the baking pan instead of on the starts.
Upgrading to an indoor/outdoor growing system doesn't have to be difficult or expensive.  You can get started for under $50 and in less than an hour with this simple DIY grow box design.
Let Us Know Your Thoughts