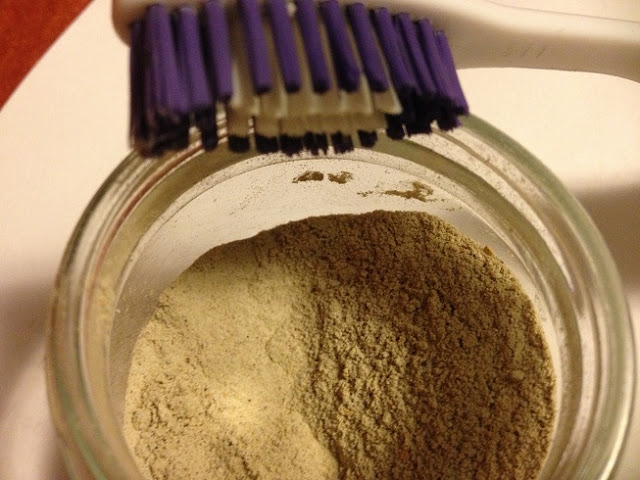 We've shared a lot of DIY health and personal hygiene products on this blog, and for good reason. There are so many products out there that are full of chemicals and toxins, that can be easily made at home for a fraction of the cost. This whitening tooth powder is packed with beneficial ingredients you'll want to try.
Ingredients:
4 tablespoons bentonite clay.

This is a natural, mineral-rich powder that gently cleans your teeth. It also detoxifies your mouth to freshen breath and fight gum disease
2 teaspoons baking soda.

Baking soda is a very mild abrasive that polishes the teeth and removes stains.
1½ teaspoons finely ground sea salt.

This ingredient is loaded with trace minerals that help to strengthen and rebuild your teeth. Salt is also a natural antiseptic which keeps the bacteria in your mouth in check.
1 ½ teaspoons unrefined stevia powder.

For anyone nervous about ditching conventional toothpaste, or just picky children, stevia helps to sweeten the powder.
Up to 3 teaspoons flavoring of your choice.

Ground cloves, cinnamon, or mint are excellent choices that also act as astringents for gum health.
1 teaspoon activated charcoal.

Ironically, this jet black special ingredient is what really does the work in whitening your teeth. Activated charcoal (carbon) particles bind to the tannins from coffee, tea, wine, and certain foods to lift stains away. Charcoal also helps to balance the mouth's pH levels which aids in remineralization.
Add all ingredients to a clean glass jar with a tight-fitting lid. Attach the lid and shake thoroughly to evenly mix.
To use, simply wet your toothbrush, dip it in the powder, and brush and rinse as you would with toothpaste. 
This recipe is incredibly easy to make and use in place of conventional toothpaste made with questionable chemicals. Whip up a batch today to complete your DIY health and wellness toolkit.
If you liked this, you might also enjoy…
Let Us Know Your Thoughts