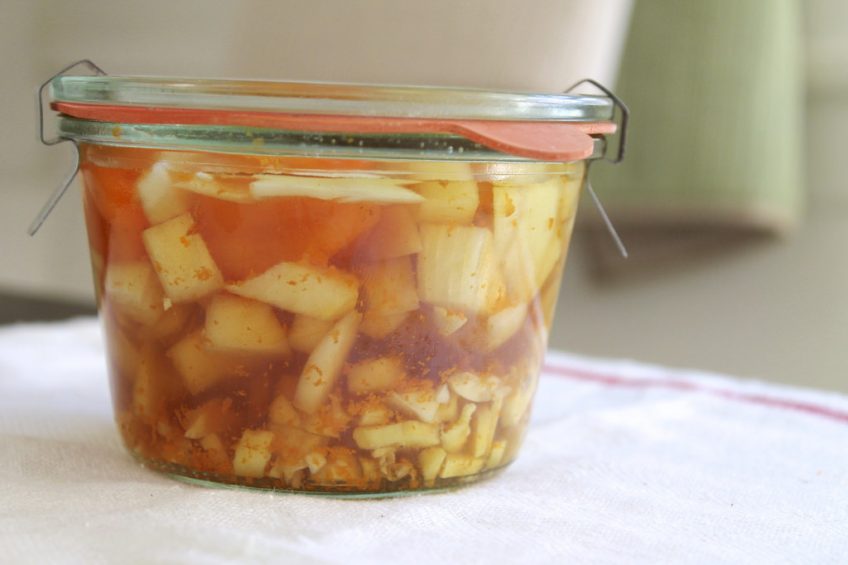 Fire cider is a great recipe for health through the winter and warding off colds and flus. You can take regularly or whenever you are sick, as a remedy. It's an old folk recipe that has many variations, this is just one of course. If you know anyone who makes it, ask them how they do it!
It takes a month to properly ferment, but once it is complete you can take it by the spoonful as needed or add to juice or even as a flavoring to chicken or rice dishes. It lasts a long time so make a big batch once or twice a year and see how many different ways you can incorporate it into your cooking or health routine. Those who make it generally rave about it so give it a try and see how you like it.
Ingredients: 
1/2 cup grated ginger root
1/2 cup grated horseradish
3 tbs grated turmeric root or 1 tbs powdered turmeric
zest and juice from 1 lemon
1 onion, chopped
2 large hot peppers, chopped
10 cloves of garlic, chopped
2-3 sprigs of fresh rosemary or 2 tbs dried rosemary
2-3 cayenne peppers or 1 tbs cayenne powder
apple cider vinegar
raw honey
Recipe:
Note: you will probably want to wear gloves while preparing this, and have your kitchen well-ventilated! If you are sensitive to onions and peppers, you might even want to consider covering your face and breathing carefully while you chop the onion and peppers.
Prepare all your ingredients, carefully, and place them in a quart-sized jar.
Cover with the apple cider vinegar. Stir all the ingredients vigorously.
Place a piece of thin cloth over the top, and secure the lid over it.
After a month, strain out the pulp and pour into a bottle or jar. Make sure to arefully squeeze all the juice out of the pulp.
Once in your bottle or jar, stir in the honey. Add as much or as little as you like to get the desired sweetness
Keep in  your cupboard and use as desired!
If you liked this, you might also enjoy…
Let Us Know Your Thoughts