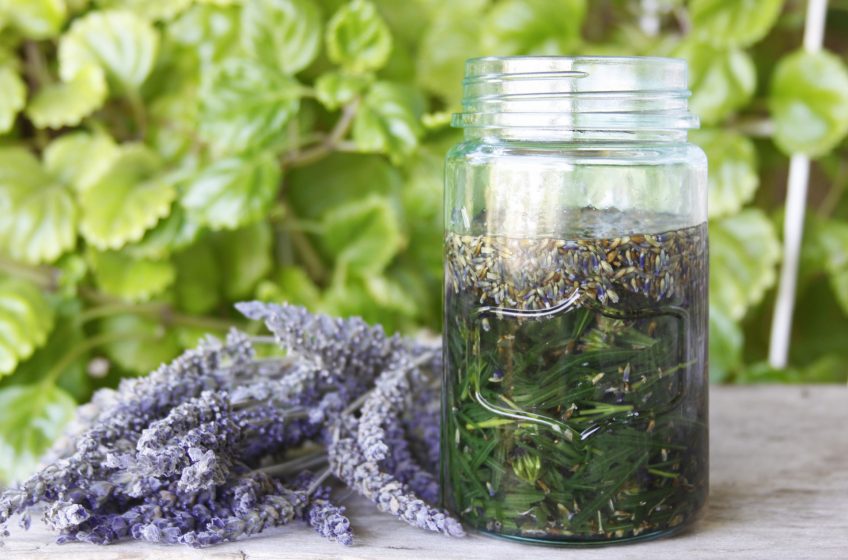 As summer winds down, you may have a garden brimming with herbs just dying to be harvested. One of the biggest downsides of herb gardens is how much work it can be to process all the herbs! A pretty good problem to have, if you ask me. Here are five great ways to make the most of a bulk herb harvest and keep your herbs through the winter, for many months of delicious cooking.
Freezing 
This is quite possible the easiest and quickest method of preserving herbs. Simply toss your herbs in a Ziploc bag, squeeze the air out, and stick right in the freezer. You can pull them out whenever you need some and, other than the additional moisture content, they can be used just as you would dried herbs. This might be the best option for space as they can be flattened in the bags and stacked pretty easily in a freezer.
Freezing in oil 
This is the best way to preserve herbs if you want to just grab a small amount to toss in a pasta sauce or other dish. Stick small portions of the herbs in each section of an ice tray, then cover with oil and freeze. Once they are frozen you can pop out the cubes and put them in a Ziploc bag for long-term storage in the freezer.
Drying
The most classic way to dry herbs, this can be done either in a dehydrator, a very low oven with the door cracked, or hung on a string. If you have a particularly dry cellar or pantry, you can even just put them in a paper bag for a few weeks. Once dried, they can easily be removed from the stem or stalk and put in airtight jars.
Preserving in salt or sugar
In an airtight jar with salt or sugar, herbs will keep sometimes for up to two years and flavor the medium you're preserving them in. The salt or sugar will absorb the flavor of the herb can be used as you regularly would. This might be nice for homemade bath salts or body scrubs too, with herbs like lavender or lemon balm.
Preserving in oil 
This is a very delicious way to preserve herbs! The herbs must be completely free of moisture, and are packed in jars, often with garlic as well, and covered with oil. You can use one of those fancy oil bottles as well. Let sit for a few weeks and then just use as regular oil. Also a lovely option for gifts.
I hope this list has given you some ideas for maximizing your herb harvest this year-at the very least, I bet it's made you hungry! Happy cooking!
If you like this, you might also like:
Let Us Know Your Thoughts