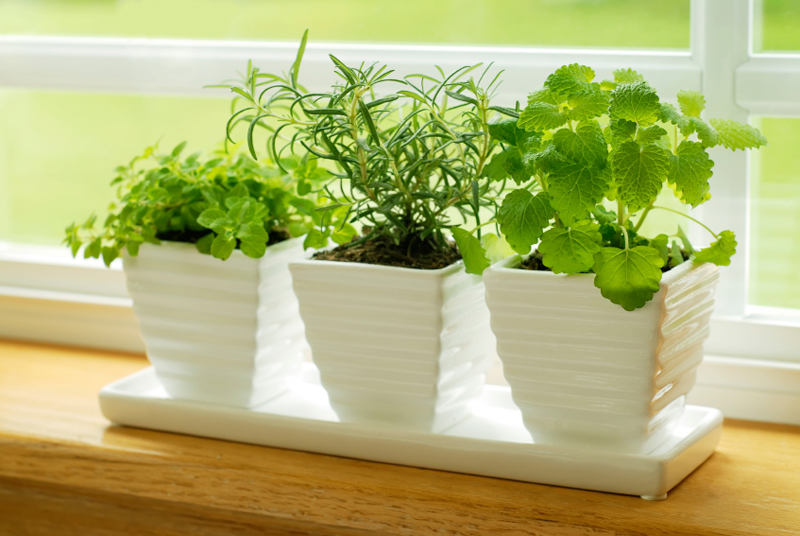 When the weather gets too cold for you to grow vegetables outdoors, you might want to be adventurous and try growing a few select vegetables and herbs indoors. If you live in an apartment, condominium or townhome without any outdoor space to grow a garden, you can grow some vegetables, herbs and even tropical fruit indoors if you create the proper growing environment.
Sufficient light, either natural light from a door or windows or a grow light, is essential for an indoor vegetable garden to thrive naturally. There are some LED grow lights available on amazon.com that also make for a cost effective alternative (if you don't have access to sutable light).
Other than eight or more hours of light, the only thing you need to grow vegetables and herbs indoors is a good potting soil mix and containers with sufficient drainage. You'll want to be selective when buying seeds or plants for your indoor garden. Carrots and radishes grow well indoors, but it is the round varieties that you want to plant in your indoor garden. Beans are another good choice for an indoor garden. Varieties such as dwarf French green beans and dwarf runner beans are good choices. Beans do well and look attractive when placed at the window of a sunroom. Cherry peppers and banana peppers can do well in a warm, sunny room. Pepper plants should be planted in a 3 to 5 gallon container. Garlic, green onions and ginger are easy and inexpensive plants to include in your indoor garden. Tomatoes can be grown indoors but they won't produce as well as plants that are grown outdoors.
If you have a sunny room, an enclosed heated porch or a sunroom that stays warm throughout the year, you might want to try growing something tropical. A dwarf lemon, orange or lime tree could thrive in this type of environment. Hanging baskets add beauty to your indoor decor. A basket filled with strawberries would be a conversation starter when people visit and a convenient source of fresh fruit.
Herbs grow well on a sunny windowsill, on a kitchen counter or in any well-lit area. You can find containers designed specifically for creating an herb garden. A collection of individual containers placed around the house or grouped together as a decorative display would be an aromatic and attractive addition to your home. If you plan to plant several herbs in one container, you'll want to group together herbs that require similar growing conditions. Rosemary, sage, thyme and oregano need a lot of sunlight and prefer relatively dry soil. Basil, cilantro and parsley are examples of herbs that can be grouped together because of their preference for moist soil. If you want to grow mint indoors, it is best to plant it in an elongated planter. Mints need space to spread out in order to thrive.
Growing vegetables indoors is an interesting hobby to pursue. Don't be afraid to experiment with different vegetables and herbs. You can start with plants that are almost foolproof such as lettuce, onions, garlic, ginger and basil and expand your indoor garden as your experience and confidence level increases.
If you want to take your garden to the next level…
Watch this video on self replishing food production.
It is a great resource if you are ready to start growing more of your own food.
Garden smarter, not harder.
---
If you liked this, you might also enjoy…
Learn to Heal and Treat Illnesses Naturally…
An Ancient Secret to Slimmer Waists…
Learn to be a Master Carpenter at Home..
Let Us Know Your Thoughts