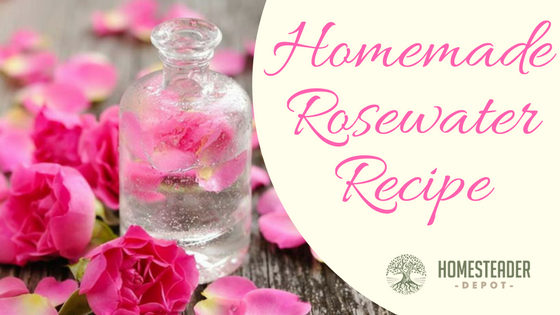 Rosewater is exactly what it sounds like: water infused with roses. It's simple, but it's incredibly effective to tone, moisturize, and give a wonderful scent to skin and hair.
You can use it in many different ways, as a toner for your skin, a quick moisturizing spray, to add to homemade lotions or remedies or just as a natural perfume.
You can make a bottle of homemade rosewater very easily and use for yourself or as gifts, or even as a chic and easy addition to a farmer's market stand for your homestead.
Wherever you live, if you happen to grow your own organic roses, this is a great way to use them up once they've faded. Or, if you don't grow roses but still want to make this rose water, try to find fresh cut roses that were grown organically, or buy some dried rose buds or petals online that are certified organic.
If you intend to use the rosewater on your skin, you definitely don't want to use conventional rose petals, because as your skin is your largest organ, you definitely don't want to be absorbing trace pesticides through your open pores.
A quick note: this recipe will work with any amount of roses you have, just follow the directions and it will work.
Ingredients 
organic roses
distilled water
Directions
If you are using fresh roses, remove the petals from the leaves completely.
Put your petals in a saucepan, and cover with just enough distilled water to cover.
Bring to a simmer and cover.
Let simmer for 20-30 minutes until petals have lost their color.
Remove from heat and strain the petals out. Let cool, and store in a glass bottle.
That's it! You can now use your rosewater to add to luxurious baths, homemade facial toner, or even to cook with; rosewater is a staple in many Middle Eastern dishes. Enjoy!
If you enjoyed this, you might also like….
Let Us Know Your Thoughts