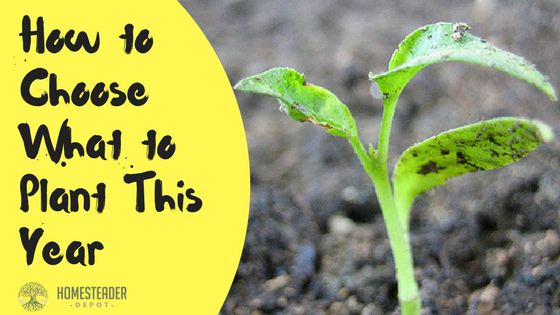 It's spring time, and if you're an experienced gardener, you've probably been planning out your spring garden and what to plant for months now.
But if you're just getting started, either on your very first garden or second or third, you might be overwhelmed with the amount of choices for what to grow in your food garden this year.
Here are a few tips for how to narrow down your options and choose what to plant:
History 
Obviously, if you've gardened already, you'll want to think about what you've successfully grown in the past, and go with what worked. But also be honest with yourself about what didn't work.
For example, you might have really had your heart set on growing tomatoes, but if you struggled with pests or diseases last year, or simply didn't have much of a harvest, you might want to skip them this year. However, just because a crop failed, that doesn't necessarily mean you should always skip it, if you learned a lot in the process and can take some simple measures that might prevent the trouble you ran into last year, it may be worth it to give it another shot.
Region
If you are a first-time gardener and don't have a garden history as a starting-off point, do some research on what grows best in your region. That doesn't necessarily mean your zone, although you should definitely have a good idea of what your zone is and what grows well there. But the climate and soil in your town or county will play a factor as well. Talk to friends and neighbors who have gardens and ask them what they recommend, or local farmers and nurseries.
Know your garden
Every garden space is different, and if you don't have full sun, your neighbor might be able to grow something that will never work in your garden. If you have partial shade all day, there's still plenty you can grow successfully, so don't worry. Just watch the sun patterns in your intended garden space for a few days, and plant accordingly.
Know your lifestyle
You'll also have to take into account how much time, energy, and physical ability you have to put into your garden. If you work full-time, for example, you won't want to plant anything that requires constant watering unless you can set up a drip irrigation system, for example.
Also, anything you plant and intend to consume, you'll have to harvest and process. When choosing seeds, make sure you know what's involved in harvesting and preserving, and that it's something you'll actually consume! You don't want to get to harvest time and have a wonderful, productive crop go to waste because you've got no time to process it.
In the end, while it's always best to play it safe, don't be afraid to experiment, too. If you're a first-time gardener, even if your first garden isn't perfect, you'll still learn a lot in the process! Happy planting!
If you enjoyed this, you might also like….
Let Us Know Your Thoughts