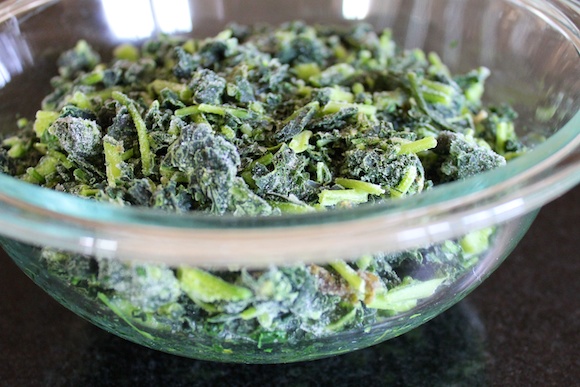 Kale is an awesome source of vitamins and iron, but if you like to buy in season and locally, you can't always find it fresh. If you shop at the farmer's market or grow kale yourself, you might find yourself faced with the task of having to preserve a large amount of kale. It's popular to dehydrate kale, but a lot of people don't have a dehydrator.
Fortunately, it's very easy and convenient to freeze kale in large batches for use in soups, smoothies, and even stir-frys. Here's what you do:
How to freeze kale: 
1. Take your bunches of kale and spread out, to make sure there are no clumps of dirt in between the leaves in the bunches.
2. Prepare your kale wash: mix a few tablespoons of vinegar in a big bowl of water or a full sink.
3. Wash all your kale leaves thoroughly by plunging into the wash and agitating around. This will remove both dirt and microbes.
4. Rinse thoroughly under cold water, inspecting each leaf for dirt.
5. Now, rib the kale, and, if you want, keep the ribs to add to stock or broth and freeze on their own.
6. Chop the kale leaves up roughly and pack into zip lock bags. Or, if you want, you can make individual smoothie packs by adding fresh fruit and a handful of chopped kale leaves to a sandwich bag. Doing this will make your morning green smoothie super simple to make!
7. If you're freezing the kale by itself, just fill up a bag with just enough to still lay it flat, squeeze out the air, and lay in your freezer. You can stack the bags on top of each other so that they'll freeze flat, which will make them easier to organize in the freezer.
That's it! You'll enjoy having kale to add to dishes or smoothies throughout the winter or whenever you don't have fresh greens in the house.
If you liked this, you might also enjoy…
Let Us Know Your Thoughts