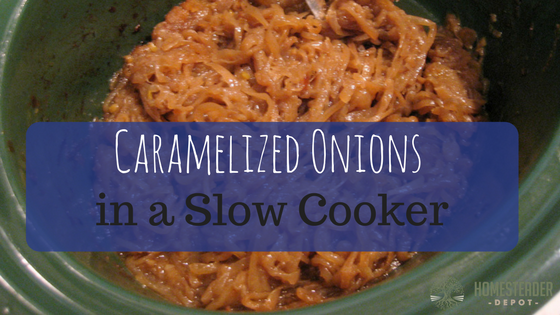 I don't know about you, but I love caramelized onions. What I don't love is spending half an hour in front of my stove, stirring the onions and waiting for them to get to just the right degree of caramelized.
Caramelized onions are a delicious addition to a wide variety of dishes, from soups to salads to pork chops and beyond. They can make a very simple, dressed-down seem like it's straight out of a fancy French restaurant. Of course, the fancy part of it is probably due to the careful process of making caramelized onions, which many home cooks won't feel they have the time for.
This is why I was very thrilled recently to find this hack for making caramelized onions in a slow cook cooker.
Not only does is this process a simple, hands-off way to make caramelized onions that doesn't require constant stirring at the stove, but it can help you make a large batch of caramelized onions to keep in your fridge or freezer for many dishes to come. Not only can you add a lovely bit of gourmet class to each meal, you can do it with very little effort on your part!
This is a great option for processing onions you find on sale, or a large harvest if you're lucky enough to grow onions on your homestead.
Here's how:
Ingredients
1 large bag onions
1/4 cup butter (1/2 stick typically)
2 tsb salt
4 tbs brown sugar
Directions
Slice your onions into thin rings, as best you can. They don't have to be perfect.
Place them in the slow cooker and cut the butter up into a few cubes, scattering them around the onions. Throw in the salt and brown sugar and give a good stir.
Put your slow cooker on low.
In about an hour, stir the onions again.
Check the onions every now and then for about 8 hours, stirring when you can.
Once they are brown and golden, you've got yourself easy caramelized onions! Let cool to room temperature and pack into bags and jars to refrigerate or freeze.
How easy was that? I'm getting hungry just thinking of the delicious smell this will fill your kitchen with. Enjoy!
If you enjoyed this, you might also like….
Let Us Know Your Thoughts