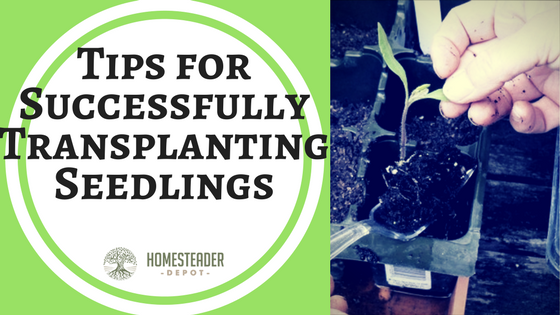 We've posted a few helpful articles this spring on how to start your seeds indoors. But what happens after that?
Here is a simple guide for how to successfully transplant seedlings in the garden.
Think Ahead 
First of all, you'll want to make sure before you even start your seeds that what you are planting is transplant-friendly. Not everything does well when transplanted, so direct seed sow whenever recommended.
Also, for the seedlings you do plan on transplanting, designate room in the garden for them beforehand, taking into account the expected size of both the seedling and the adult plant.
Timing is Everything
There are two key factors to finding the right time to transplant. First of all, you need to take advantage of the window in which your seedlings are healthy and established enough to transplant because they can get very unhealthy and even die completely if you wait too long. Again, this will take some planning ahead.
Secondly, make sure to do it at the right time of day. When seedlings are transplanted, it can be hard on them, so transplanting in the middle of the day will add unnecessary stress on them as they sit in the hot sun. Opt for early morning or, even better, early evening, so that have all night to recover and retain moisture.
Water, water, water
The most important aspect of transplanting is to give your fresh transplants enough water, and frequently as well. Again, they'll be taxed after being taken out of their cozy little pots, and they'll need lots of water to absorb the nutrients in the soil and strengthen their roots to properly establish themselves in their new home.
Water well right after transplanting, and keep the soil around them damp constantly for the next few days at least. You'll notice the difference if they don't; while they might naturally appear a little wilted at first either way, they'll perk up within 12-24 hours if they're taking well to the garden bed. If they still appear wilted, they might not be getting enough water. Of course, use your own judgment here, because you won't want to overwater either.
There's nothing as rewarding as filling a new garden bed full of healthy, fresh seedlings! Follow these basic tips to make your transplants healthy and happy.
If you enjoyed this, you might also like….
Let Us Know Your Thoughts