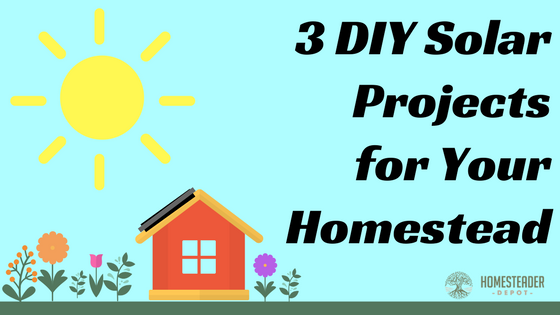 The sun is an amazing source of energy, and it is entirely renewable and free. Unfortunately, most people think of solar energy as costly and complicated.
You don't need to break the bank and spend a fortune on fancy, on-grid solar panels to harness the power of the sun!
First of all, we use the sun's energy daily. Our garden thrives on it, our grazing animals live on solar-powered food (grass!), even our chickens harness the sun's amazing power to produce eggs! Pastured meat, dairy, and eggs are actually one of the best ways to harness the power of the sun, and you probably didn't even realize you were doing that every time you consume your own or buy grass fed meat, dairy or eggs. Pretty cool, huh?
Of course, all the pastured animal byproducts in the world won't necessarily be able to replace fossil fuels around the house (or could they? Hmmm…), so how can you cut the cost of installing and operating solar by setting it up yourself?
Well, we set out to find some ways for you to DIY your own solar set-ups, and found three awesome video tutorials for easy, cheap solar power systems that you can use to power and heat your home. Check them out:
DIY Solar Thermal Water Heater 
This very cool, simple, and totally effective homemade solar water heater from off-grid solar project aficionado and YouTuber Desertsun02 is perfect for low-tech homesteads or camping/survival preparedness. Using some basic carpentry skills, copper tubing, and the mighty power of the sun, you can easily get and sustain nice, hot water for bathing. If you've ever had an electric water heater in your home, you're probably fantasizing about the costs cut by heating bathing water with the sun! Very cool:
DIY Solar Panel System: Small Affordable Setup 
This is a very easy and simple solar system for those who don't want to go full solar, but would like to have a back-up system to save a little money or be prepared for power failures or when SHTF. Homesteader and YouTuber Starry Hilder walks us through purchasing the components for, and setting up, a simple, affordable solar system, demystifying the process and offering reassurance that it really isn't as complicated, expensive, or difficult as it seems at first. Great intro to DIY solar energy systems.
DIY Solar Furnace for Under $50
This one seems almost too simple and easy to be true. For less than $50, this video shows you how to build and set up your own incredibly easy solar furnace. Can you imagine actually heating your house with solar power? How cool is that? This video has well over a million views on YouTube, so I think this guy is definitely on to something. Check it out:
We love DIY almost as much as we love solar power, and it is really inspiring and cool to check out some of these impressive and affordable home projects for solar power. Give us a shout if you see some more cheap, easy DIY solar projects and we'll try to feature them in a future article.
If you enjoyed this, you might also like….
Let Us Know Your Thoughts