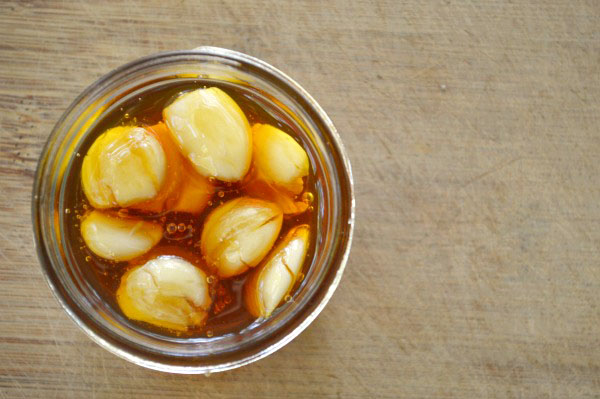 There are so many great natural cold and flu remedies we've covered lately, but this is another great one that is very simple to make, and includes only two ingredients that you probably already have on hand: garlic and raw honey. And maybe I'm weird, but I think this combination is totally delicious!
Both garlic and honey boast incredible health and immune-boosting benefits, and taken individually are great to add to your healthcare regimen.
Garlic, especially when consumed raw, can help maintain healthy blood pressure and circulation, heart health, and kill fungus and bacteria.
Raw honey is honey that has not been cooked, maintaining the original metabolic structure and nutrient content of the honey. It can help maintain balanced gut flora, has loads of healthy enzymes, nutrients, and pre-biotics, and also kills fungus and germs.
So both these great natural remedies, when they combine forces, make for a powerful, germ-busting and immune-boosting cold and flu remedy! Not to mention, possibly the most appealing thing about this remedy, that while raw garlic is great for your health it is also very difficult to consume raw, so the honey adds sweetness to the flavor, making it far more bearable!
Here's how you make it:
Ingredients: 
raw honey
1 head of garlic
a small jar (about 4-5 oz)
Recipe: 
Break apart the individual cloves of garlic and crush each one with the flat side of a large knife. Completely peel each clove, then let sit for about 15 minutes.
Place the cloves in your jar.
Cover the garlic cloves with raw honey. As honey moves slowly, be patient and make sure every gap is filled between the cloves, you might have some air pockets, so just stir gently and pour more honey in until you have it full.
Cover with the jar's lid, and let sit on your counter for 3-5 days
Refrigerate.
And that's it! Keep the jar in your refrigerator and, whenever you feel a cold or sickness coming on, simply eat one of the cloves. Enjoy!
If you liked this, you might also enjoy…
Let Us Know Your Thoughts