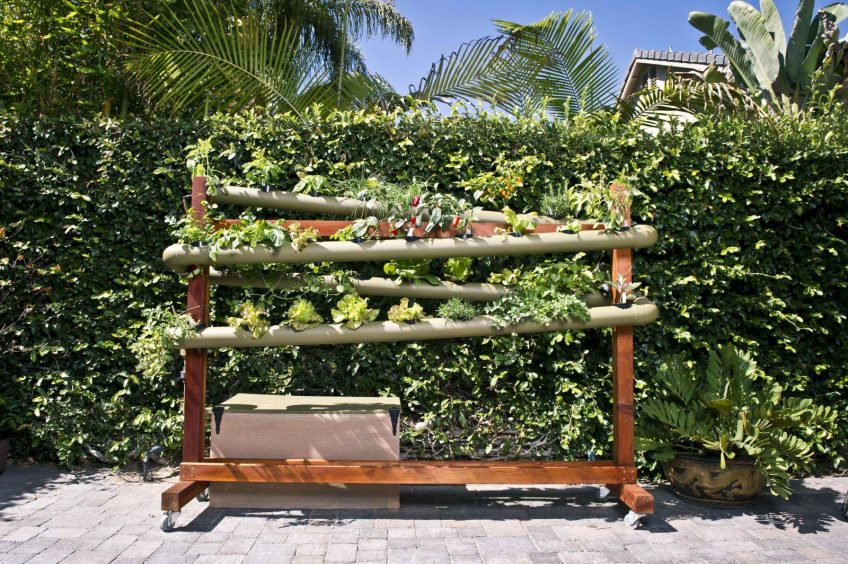 You don't need a lot of space to grow an abundant variety of vegetables, herbs and flowers. Vertical gardens have become a popular patio, deck or small lawn project for everyone wanting to enjoy the benefits of having fresh vegetables right outside their door. Vertical gardens can be a family project or a solitary hobby that functions as a form of stress relief while supplying you with delicious food for your table.
There are numerous benefits to growing a vertical garden. One of the main benefits is the small amount of space that it requires. Another benefit is that vertical gardens are easy to care for. You can easily and quickly see if you have a pest problem. Addressing these situations promptly is imperative if you plan to enjoy a bountiful harvest. In a traditional garden, some vegetables end up falling to ground and rotting because you can't see them through all of the vines and leaves. In a vertical garden, it's easy to see vegetables as they ripen or reach maturity so no food is wasted. Harvesting from a vertical garden is much easier than bending and picking from a traditional style garden. Their ease of accessibility is one of the reasons a vertical garden is an ideal option for anyone with a physical disability, arthritis or other mobility problems. A vertical garden can also function as a living privacy wall for your patio.
Vertical gardening systems that range from budget-friendly to budget-breaking are readily available. There are also an extensive number of DIY vertical gardening projects and ideas available that range from beginner level to the most experienced DIY level. You can grow a fantastic and bountiful garden on something as simple as a few trellises on a patio, a graduated planter system, containers attached to a wall or in containers placed at the base of a sturdy fence. It's simply a matter of personal preference as to what type of vertical garden system you purchase or construct.
To be the most successful with your vertical garden, you need to select plants that can thrive in the area where you are located. Be sure you choose plants that are compatible with the amount of sunlight your garden space receives. For the greatest success, you need to use a good quality potting soil. Proper drainage is essential. As with container gardening, you will need to be attentive to the moisture conditions. You may need to water your vertical garden often during hot, dry summer months. You can incorporate flowers and herbs such as marigolds, zinnias, basil, dill, sage and summer savory into your garden both for beauty and as natural insect repellants.
Vertical gardening is an easy, efficient way to grow a bountiful supply of vegetables in a compact space. Stepping out of your door and picking fresh vegetables gives you a sense of pride and accomplishment. Currently, there's a lot of focus on healthy eating habits. Growing your own vegetables is an affordable way to obtain fresh, pesticide-free vegetables.
If you liked this, you might also enjoy…
Let Us Know Your Thoughts