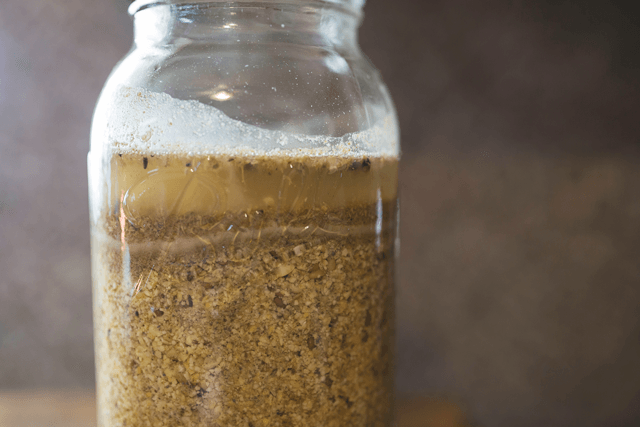 Us humans love fermented food. It's not just kombucha and sauerkraut for hippies, most of us eat fermented food in the form of beer, wine, cheese, yogurt, vinegar, pickles and sourdough and levain-style artisan breads, which are all fermented when traditionally made.
I'm a big fan of fermentation because not only are most fermented foods delicious, they're also packed with beneficial bacteria that can heal your gut and improve overall health tremendously.
So when I first heard about fermented chicken feed, I was instantly intrigued. If you're rolling your eyes, I understand, it definitely sounds like a pretty hippie thing to do. But plenty of happy chicken owners report that their chickens go crazy for fermented feed and lay more eggs when they're fed it regularly!
It's also very simple to make.Here's how you do it it:
Starting with the feed you already give your chickens on a daily basis, take the amount of feed you normally give to your chickens in one day, and put it in a jar with a lid (a quart or half-gallon mason jar will probably be perfect)
Cover with filtered water so that the feed is completely submerged, with at least an inch of water covering it
Put the lid on and let sit for three days (at this point, you could start a new batch on the second day, and again on the third day, and so on as you use the first day's batch up, so that you have a new one every day to use. But you also might want to try out just one batch at first so that you can make sure your chickens will like it before using up that much chicken feed!)
After three days, drain, and feed to your chickens!
I hope your chickens enjoy this and repay you with lots of eggs. Enjoy!
If you liked this, you might also enjoy…
Let Us Know Your Thoughts