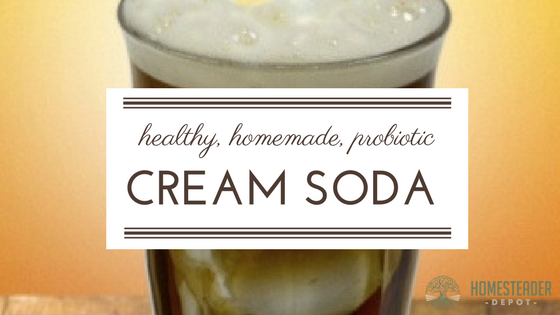 I don't know about you, but I absolutely love a good, old-fashioned cream soda. It's such a great treat, and hard to find a really well-brewed one these days.
Earlier this week we wrote about a ginger bug which is the base for many kinds of probiotic sodas, and cream soda is one of the delicious, healthy, probiotic sodas you can make using ginger bug as a result!
The really great thing about probiotic cream soda is that since you are fermenting it with a culture, the little bacteria in the culture actually eat the sugar, changing its metabolic structure, so it's actually nothing like store-bought sodas that are full of sugar or high-fructose corn syrup. While it does still contain sugar, it's a much healthier form.
So, here is how you make it!
Ingredients: 
2 quarts filtered water
3 cups white sugar
3 tbs vanilla extract
1 cup active ginger bug
Directions: 
When you are sure your ginger bug is active, meaning bubbly and fizzy, make this recipe right away.
First boil your water, then remove from heat and stir in 2 cups of sugar. Once it is cooled a bit, so that it's still warm to the touch but not at all hot, stir in the other cup of sugar until it dissolves.
Then, pour the water into a half-gallon jar and stir in the vanilla, and finally, the ginger bug.
Cover with the lid, and let sit on your counter for several days. Check daily for signs of fermenting, and stir.
When it is bubbly and smells slightly sour and sweet, it's time for the secondary ferment, which will make it bubbily. You can either keep in the same container and simply tighten the lid, and check every day until the lid no longer indents when you press it, or you can pour into specialized flip-top bottles for fermenting.
Be very careful at this point, because the jar or bottle could explode if fermented too long! You might want to keep in a bucket, if you can, just to be safe. But all you need to do is to crack the lid or bottle top slightly to hear for a "hiss", then you're probably good.
Put in the refrigerator to keep and to stop the carbonation process, and enjoy!
If you enjoyed this, you might also like….
Let Us Know Your Thoughts