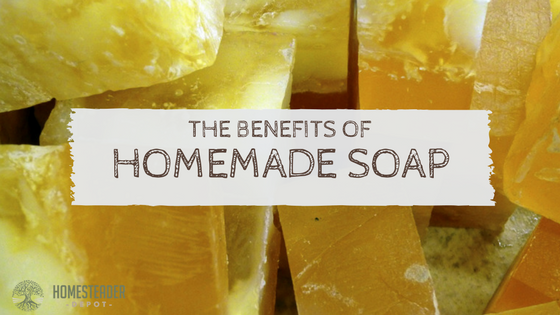 When was the last time you looked at the ingredient list on the soap that you buy at the grocery store? Most people never stop to take the time to look at this list, just getting what they've always bought or whatever marketing plan and commercials have told them a good soap should be. When you start to look at the ingredient list though, chances are good that you will find quite a few things that you can't pronounce, including chemicals that may not be as good for your skin as you believe. It makes far more sense to go natural with your soap, as it can have some benefits.
Cold process soap, the type that uses lye, is the best type of homemade soap. You do not have to worry about the caustic qualities of lye, as the saponification process takes care of this. It is relatively easy to make, and it works well to break down dirt, which can provide you with a clean feeling on your skin without any "residue" that you might feel from chemical-laden store bought soap. Essential oils can be added to the soap, which provides a nice scent, along with better moisturizing capabilities, making it great for the skin. Since it is natural, it also happens to be good for the environment.
When it comes to getting these quality cold process soaps, you have a couple of options. You can find sellers online who are making these soaps, for starters. This might be a good solution when you want to test out just what a difference the natural soaps can make. You could also find people in your area who make soap and buy or barter with them. Of course, as a homesteader, it is also a good idea to take some time and learn how to make this soap on your own. This is a fantastic skill to have.
If you liked this, you'd also like…
Let Us Know Your Thoughts