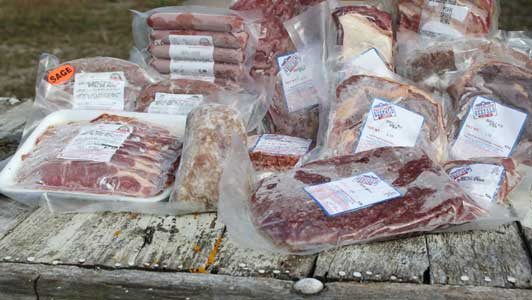 I posted earlier about a great video showing the complete process of butchering a cow. This is one of the big draws of homesteading-raising and butchering your own meat. Having a reliable source of high-calorie sustenance like animal protein is one of the cornerstones of self-reliance and sustainability.
However, getting yourself in the position to raise animals for meat is no easy feat. It requires a lot of resources, resources you might not yet have access to, like pasture, shelter, feed, proper equipment, etc. Whether you are an urban homesteader, aspiring homesteader, or just getting started and aren't yet in the position to be raising livestock, there are definitely still options for you to eat great pastured, sustainably-raised meat while you're still dreaming of raising your own. Here are some tips:
1. Find some farmers
If you live in or near a rural area with a lot of farms, keep your ear out for farmers that sell either butchered meat or whole animals that you can yourself take to the butcher. Ask around, look on local community bulletin boards, on websites like Craigslist.com or in local Facebook groups. You can save a lot of money this way and fill your freezer up for the winter.
2. Share a cow
It is common for both milk and meat for a few families to pitch in and buy a cow. For meat, since cows can be pretty expensive to buy whole, you'd all pitch in and buy one when it's ready to be butchered, you can get quite a bit of meat and share it.
3. Find a CSA
CSAs are not just for vegetables, a lot of farms will include fresh meat in your orders too. If you're lucky, you can find one in your area and have a regular supply of farm fresh meat delivered to your house.
Pastured meat is not only sustainable, it's also much healthier and more nutritious for us. You don't have to raise your own to enjoy farm-fresh meat and support a local farmer too!
If you liked this, you might also enjoy…
Let Us Know Your Thoughts