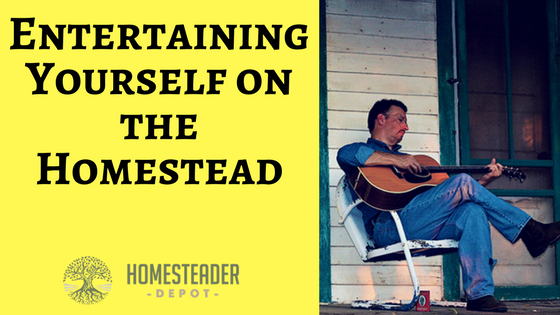 When you have a homestead, you and the family tend to spend quite a bit of time there. That's not to say you don't get out and have fun off the property, but there will certainly be quite a bit of time on the property. Naturally, you want to have some things available that can keep you happy and entertained, especially on those rainy days or when the snow comes and you can't spend as much time outdoors.
First, get some board games, as well as a deck of cards. Make sure that you get different types of board games, so that you will have choices that will appeal to different members of the family. You should also get some books to have on hand to read from your favorite authors or about subjects that interest you.
Consider learning some musical instruments, as well. Some of the good options that you might want to consider include the acoustic guitar, harmonica, and ukulele. Whether you are brand new to music or you have played for ages, it is always nice to have instruments on hand. It's great indoors, and to take with you while you are out by the fire pit or even when you are camping.
You can also start to look for some new hobbies that might interest you. For example, perhaps you have always wanted to learn photography that goes beyond just taking pictures of your cats or your food. You will find plenty of interesting subjects on the homestead. Learning photography techniques is fun and enjoyable. Just think about the type of hobbies that you've always wanted to learn, and then pursue those. Learn to tie flies, learn to reload ammo, learn to paint… the possibilities are endless.
The homestead never has to be a boring place, so make sure it is plenty of fun!
If you enjoyed this, you might also like….
Let Us Know Your Thoughts