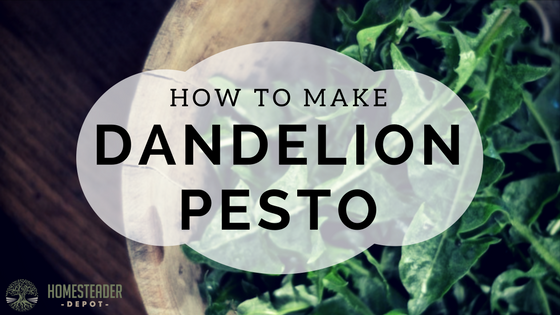 Dandelion is a wonderful plant, that the majority of Americans just think of as a weed. If you're not already foraging your yard's dandelion for natural remedies or food, you definitely should be.
Dandelion grows virtually everywhere, and I can almost guarantee it's growing somewhere near you, either in your backyard, local park, or any field or meadow nearby. It was a staple of Depression-era cooking, and it's tasty, nutritious leaves can be prepared in a number of ways.
You can easily eat them raw, but if you'd like to enjoy them in a very delicious way, try this amazing and tasty dandelion pesto. You can make a fancy, gourmet pasta dish out of foraged leaves, how cool is that?
To harvest dandelion leaves, be sure to use a knife. The tough, stubborn roots can make it hard to harvest the whole plant, so you'll want to dig in with a paring knife to uproot it properly.
After harvesting, make sure to wash extremely thoroughly. Dandelion can retain a lot of dirt, so you'll want to rinse it all under cold water, then soak it all in water with a dash of vinegar.
After about 20 minutes of soaking, vigorously shake the dandelion leaves all around the water, then pour out the water, rinse, and fill your bowl with water again, shake the leaves out one more time, and rinse again. This should do it, but inspect the leaves as you prepare your pesto, just to be safe.
Ingredients
1/2 pine nuts
3 garlic cloves
2 bunches freshly harvested dandelion leaves.
1 Tbs lemon juice
1/2 cup olive oil
1/2 tsp salt
1/2 tsp black pepper
1/4 cup Parmesan cheese
salt to taste
Instructions
Roughly chop your freshly washed dandelion leaves, so that they equal a loosely packed 2 cups.
Roughly chop your garlic.
Place the garlic, dandelion leaves, pine nuts, lemon juice, olive oil, salt, and pepper in a blender or food processor.
Blend or pulse until smooth. You might need to stop and scrape down the sides with a rubber spatula a few times.
Stir in the parmesan cheese until evenly incorporated.
Serve fresh or refrigerate and eat within 3 days.
Bon appetit!
If you enjoyed this, you might also like….
Let Us Know Your Thoughts